Other services that I provide include ...

Wedding photography.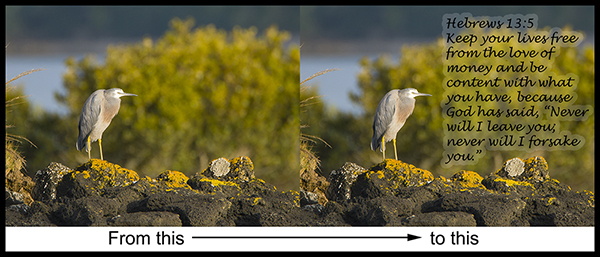 Print any file with text added.

Do commercial photography.

Custom instruction.

Put images together as a composite.
Photographs for sale: I have a large variety of photos available for sale. Some of them are displayed in my gallery. Framing and matting are optional.
Print your photos with text: I can take any photograph, yours or one of my own, and add any special text you may like to it. I print using Epson pigmented ink and can produce prints up to 16 inches wide. Glossy, lustre, or canvas paper.
Books by Eric Svendsen: I have a wide variety of textbooks I have written on photography useful for self education and expanding your skillset.
Videos on utube: I have converted quite a few of my powerpoint shows into videos for your viewing pleasure. They may reflect the nature of one of my books, a course, or detail methods useful for understanding your camera and improving your photography.
Other services: Other services I provide include doing event photography (weddings), product photography, and custom instruction.
Photos on Flickr: I have a variety of my favourite photos on flickr. Feel free to view them. Prints can be made of images with or without custom text of your choice.
Thank you for visiting my website.